Description
The original Builds By Baz crevicing tool, designed and perfected in the gold fields of Australia by the man himself, Baz. They are hand forged by Baz in small batches and are only available in limited quantities, (Maximum of 4) per customer.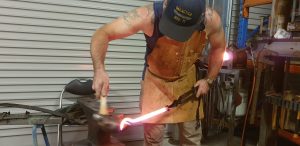 Instructions for use and care
The Baz crack scratcher, (crevicing tool) is made of high carbon spring steel, hand-forged then re-hardened and tempered to bring back the qualities of strength in the steel.
The Baz crack scratcher is intended for crevicing in bedrock for the purposes of removing packed gravels, dirt and other materials from cracks and splits in the rock, enabling the prospector to access desired materials on the bottom of the crevice.
The Baz crack scratcher is NOT A PRY BAR. The hook and point have been designed to manipulate gravels and remove them by reversing the direction they were packed in. This is done  via scratching, scraping and light levering using the hook, plus some tapping with the handle end if needed.
This steel is very hard, very strong and spring tempered, but the tool has been designed for the purpose outlined above. If you use excessive force above and beyond intended use, there is a chance you could break it and Builds By Baz accepts no liability.
Builds By Baz has faith that the prospecting community is a practical and fairly honest one and that if you break your tool, you might want to ask yourself what you were doing wrong to break it.
Care of tool.
High carbon steel rusts. It's a crevicing tool. Who cares? It sits in your bucket of mud and slop for indefinite periods of time and turns brown. Within minutes of use, much of this brown comes off through use anyway, but if you are concerned then you can oil it with whatever you like. Builds by Baz recommends an environmentally friendly, light mineral oil, or even vegetable oil.
Make sure you wash it with warm soapy water before use, as the oils could get into your gold pan and cause problems with gold loss during panning.
Sharpening.
If you are handy with a *grinder, either bench or angle, you can re-sharpen the point as it wears down. DO NOT GET IT HOT! Have a bucket of cold water nearby and keep the tool cold while grinding. Grind, quench, grind quench, rinse and repeat as often as needed to get the job done. If it turns dark blue, you have got it too hot and the point may not be as hard as it was.
*Builds by Baz accepts no responsibility for injuries/damages caused during sharpening with hand or power tools.
Demonstration Video 
Video Reviews
Several other gold channels on YouTube have reviewed the Baz Crack Scratchers. Check 'em out!
Chris from Vogus Prospecting gets his first Baz Crack Scratchers at 14:12
Dunky and the Raven clean out some deep cracks with their new Baz Crack Scratchers!